I hope that everyone has had a fabulous weekend and that you are all ready to hear part two from Barry and Rachel Chapman whom after spending a week walking around in the bush treated themselves to a few nights relaxing at Pumulani. So again I am handing you over to Barry and Rachel:
"After the early starts and exercise of the mobile walking safari, three nights at Pumulani were just what was required. On the shores of Lake Malawi, a short flight from South Luangwa, this lovely lodge in a stunning location was perfect. After breakfast on the terrace overlooking the lake we chilled out by the pool before going on a short bird walk with our guide Black, followed by a kayak back along the shore line.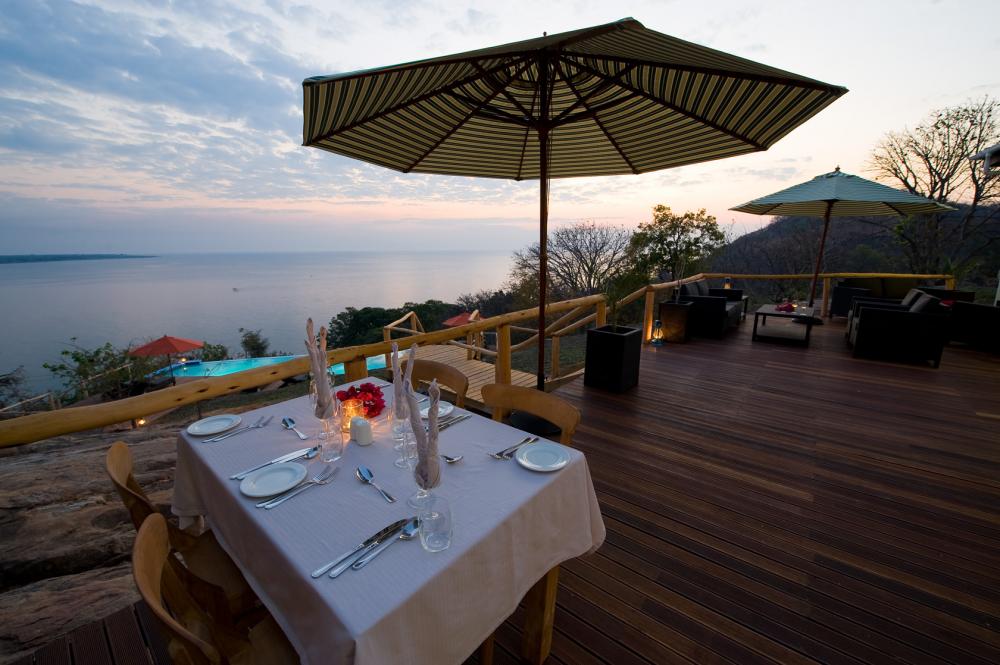 As we were walking and I was asking about a bird call, Black casually mentioned that they regularly saw a Pel's Fishing Owl in the trees on the beach. A Pel's Fishing Owl?! Wow! Do you know how rare they are? I love owls, and this species is stunning, rarely seen and one of the biggest owls in the world. Black promised to point him out to me if he saw him.
We enjoyed our 30 minute kayak back, which nicely highlighted the different skill levels between Black and us. I think we travelled twice as far as he did, zig zagging along, puffing and splashing, whilst he effortlessly glided along in a straight line.
We had just finished our lunch under the shady trees on the beach, when Black came over to tell us he had spotted the owl. We peered up into a big tree and sure enough, towards the top in the leaves, there he was, blinking down at us! He was clearly unimpressed at having his nap disturbed, and after a few minutes watching each other he took off, giving us a brilliant view of his huge wingspan, and flapped away.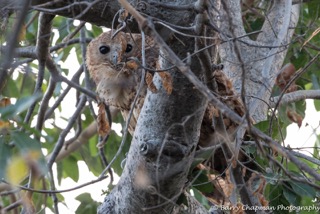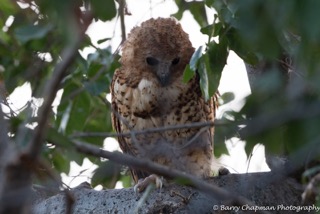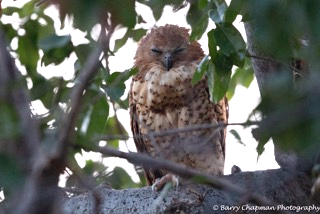 We thought that was that, and spent a lovely relaxing afternoon on the beach. Around 5pm we went back to sit on our balcony, which gave a fabulous view of the lake, with the trees in front often full of birds, monkeys and baboons. Barry spent an enjoyable (to him) 30 minutes trying to photograph bee eaters in flight (difficult!).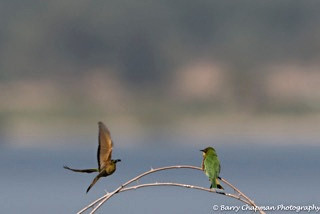 I enjoyed myself just watching the wildlife wander by. I glanced up into the enormous Baobab tree 20m from our balcony and saw a shape. It was the Pel's Fishing Owl, within 30m of us! He seemed much more chilled out, and let Barry take photos and me gaze at him. He was still there when we went up for dinner a couple of hours later. What a special, beautiful sight!
The night ended perfectly with some top tips from our host Josh allowing Barry to take some wonderful star shots from the beach."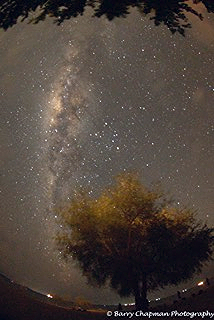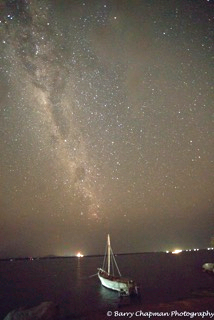 Thanks Josh, Christelle and Black for a wonderful end to our holiday.
Thanks so much Barry and Rachel and don't worry you are not the only ones who kayak in massive zig zags! As for the Pels fishing owl what a treat and incredible sighting. Josh also had a pretty incredible sighting recently. Having a morning stroll on one of the bird walks can turn out to be more then what you expected….coming across a python having his breakfast is something not everybody has the privilege to witness. This beauty had just caught a rock hyrax.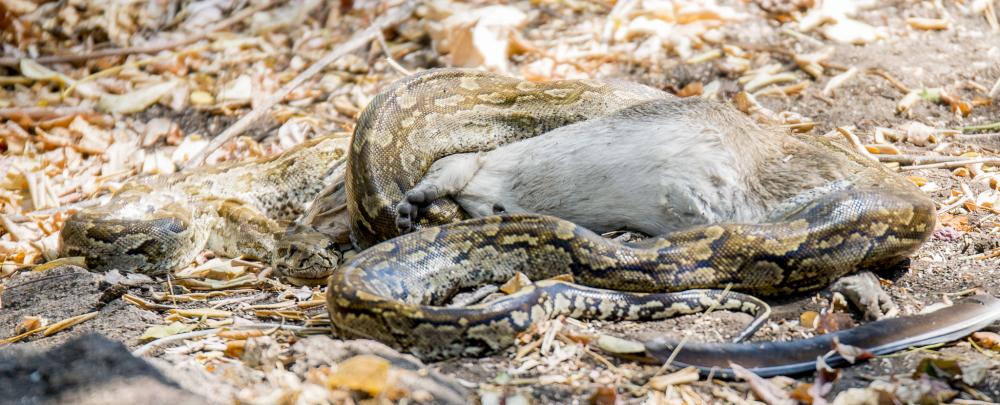 Other than that, well here in the Luangwa what can I say, we continue to have incredible sightings which I shall delve into more next week but will leave you with this little snippet. On Sunday morning everyone was woken up by 4 male lions walking down the road behind all of our houses roaring for the entire time. The houses shook, the baboons barked and our cats were found taking refuge under the dining room chairs as if that would protect them!! It was quite an incredible orchestra of sound and when everything calmed down people started appearing from their rooms eyes wide open and just relieved that they had not had any pressing requirements to be out and about any earlier.
So there you have it for another week what can I say except I shall share more stories from the bush next week and in the meantime hope that you have a fabulous time with lots of smiles and laughter.